In 2020, we published "When Europe cooperates, regions benefit" and highlighted 30 stories showcasing successful policy changes across Europe. Members of our community were invited to select and vote for their favourite project in each of our topics. In the topic of low-carbon economy, the public vote went to REGIO-MOB, which was then selected as favourite story.
REGIO-MOB: a brief insight
Our cities are simultaneously facing high levels of congestion and a rising demand for mobility. This is the reason why we need to accelerate the transition towards more efficient and cleaner transport systems. By sharing experiences in policies performances in the field of sustainable mobility, REGIO-MOB contributes to interregional learning and aims at inspiring other regions, which were not initially involved in the project.
Shifting attention from cities to regional and interregional levels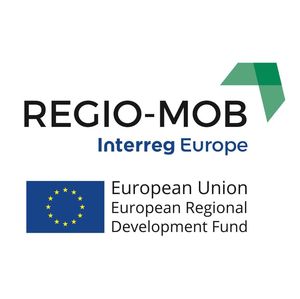 We interviewed with the project's coordinator, Giorgio Scavino (ANCI Lazio) and Andrea Vignoli (Italian National Association of Cities and Municipalities).
Q: What is the change that REGIO-MOB brought to your region?
GS: We are proud of this result, thanks to the commitment of all partners and stakeholders (including policy-makers) and to the intelligence of Interreg Europe programme, which made this entire process possible. We worked on building up regional action plans on sustainable mobility. The important novelty brought by REGIO-MOB project was also the adoption of a new point of view. Generally, sustainable mobility is focused on cities. Our work was to shift attention from a single city to regional and interregional levels.
AV: The first goal was to change the mentality of policy-makers in order to not consider only the city of Rome for sustainable mobility policies but also include all other municipalities that are in the metropolitan city of Rome. We need to change the mentality and also consider the "first mile" of mobility. We were able to dedicate 2 million euros of ERDF funds in our region in order to improve the existing info mobility system and include all local public transports of all municipalities in the metropolitan area of Rome.
Q: Can you explain what was the most inspiring element of this exchange of ideas?
AV: Listen to policy-makers from Scotland or Slovenia and understand how they realize such investments and how they design solutions was really interesting. The main goal was to involve directly policy-makers from the beginning of the project in order to let them evolve in this new mentality.
Thank you to the REGIO-MOB project's team for answering our questions!
Watch the interview
You can watch the full interview to understand the shift of mentality REGIO-MOB brought to the project's partners and regions:
Want to know more?
If you are interested in learning more about sustainable mobility:
Or flip through our 30 stories publication to learn about other policy changes throughout Europe