The SILVER SMEs project has just been launched! This five-year INTERREG Europe project started in June 2018 and will last until 2023.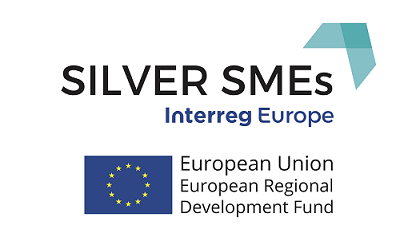 1. What is the project about?
SILVER SMEs aims to support regional policies in rural and mountainous areas by enlightening the potential for small- and medium sized enterprises (SMEs) to develop new innovative products and services of benefit and joy for a senior population and for growth and competitiveness of the regions. The project will focus on SMEs development opportunities to produce goods and products for the retired (from 62 years old), especially those living in peripheral and rural areas.
2. What does SILVER mean?
Silver refers to the Silver Economy defined as the economic opportunities arising from public and consumer spending related to the needs of an ageing population.
3. Why focusing on the Silver Economy?
The Silver Economy accounted for over 78 million of jobs in the EU in 2015. For this reason, through the development of the Silver Economy and support of SMEs in all stages of their life cycle, SILVER SMEs project aims to bring important job opportunities in sectors of high relevance to the Silver Economy.
Beside healthcare, the Silver Economy offers new opportunities as well for a wide range of subsectors, such as silver tourism, development of ICT Apps, Internet of Things, transport, shopping, cleaning, housing, etc.
4. What can you expect from the SILVER SMEs project?
The main results expected from this project include among others a European benchmark study, the identification of 18 good practices that will contribute to promoting the engagement of regions in innovation of Silver Economy SMEs, covering both subgroups of the ageing society and, transversally, some key economic sub-sectors of the Silver Economy. This will allow to develop, from a mid-term perspective, new ICT-products and services that will allow public authorities to deliver better and cheaper care for all.
To do so, the project will develop 8 action plans for the improvement of ERDF (European Regional Development Fund) Operational Programmes related to SMEs, these action plans will change and improve 8 regional policies in the project partners' regions.
In addition, the project will also organise 6 Interregional study visits, 3 Interregional workshops and two conferences.
5. Who are the partners ?
SILVER SMEs gathers 9 partners across Europe. The project leader is the Spanish Province of Teruel. Here is the completed list of SILVER SMEs partners:
Provincial Government of Teruel (Spain)
Region Dalarna – The Regional Development Council of Dalarna County (Sweden)
Intermunicipal Community CIM Ave (Portugal)
Cork Institute of Technology (Ireland)
Soca Valley Development Centre (Slovenia)
Society for the Development of the Province of Burgos (SODEBUR) (Spain)
Eurasanté EEIG (France)
Regional Development Agency JSC (Poland)
Euromontana (France)
6. How to stay in touch?
If you are interested to follow the project results and outcomes, you can register to our newsletter !
You can also follow us on the social media