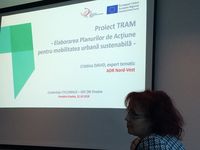 On Monday 22 October, Ms Cristina David, as a representative of PP5 of TRAM project, took part to the Mid-term conference of CYCLEWALK project, presenting TRAM's achievements, challenges and experiences.
The Oradea Metropolitan Area Intercommunity Development Association implements the CYCLEWALK project in partnership with other local authorities, universities and transport companies in the European Union (Olbia - Italy, Sardinia - Italy, Gorizia - Italy - Nova Goriza - Slovenia , Burgenland - Austria Region, Vilnius - Lithuania Transport Company and Amsterdam University through Urban Cycling Institute - Netherlands). The project funded through the INTERREG Europe program aims at promoting non-motorized urban (pedestrian and bicycle) mobility by increasing decision-makers' skills and increasing the quality of interventions and policies in the field in order to increase the popularity of these forms of active mobility.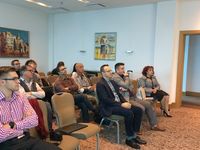 Between 22-25 October, the Oradea Metropolitan Area organizes a series of events within the project, with the participation of representatives of partners and local stakeholder groups, to support the process of knowledge exchange and accumulation of experience related to the project theme.
This event will include:
22 October
10:00 - Interim Project Conference
14:30 - Workshop on cost-benefit analysis for investments in cycling infrastructure
23 October
09:00 Training on IT tools for pedestrian and bicycle infrastructure planning
24-25 October
Study visit designed to investigate the connectivity of Oradea with neighboring bicycle tracks, respectively the evaluation
More info at: www.interregeurope.eu/cyclewalk/